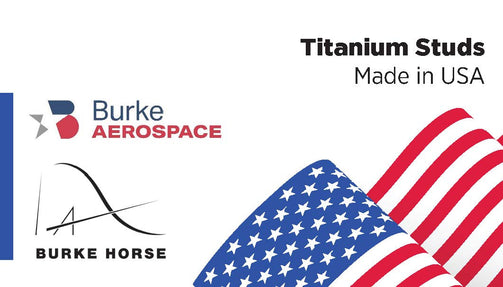 Burke Horse Titanium Studs
Super lightweight titanium horse studs that will never rust. Developed by aerospace engineers in collaboration with top 5* Eventing Riders; Boyd Martin, Lillian J Heard, Ryan Wood, and U25 Elite Athletes; Isabelle Bosley and Meg Pellegrini.
Burke Horse Titanium Studs were rigorously tested by these athletes in 5* and 4* competition and reviewed by the Eventing community throughout the design and test process over Ty Burke's social media platforms.
Nothing but the best
HHS Iris and Ty Burke popping over a roll-top at Morven Park H.T. summer 2021!
Born from wanting only the very best for Queen Iris, Ty was disappointed with the rusty, heavy, and poor quality metal of available studs. "If its going on Iris, it's going to be nothing but the best".